Angled Steel Section
At Stainless and Aluminium we provide standard galvanized rolled steel angles for various structural purposes. We can provide fully customized steel angles, creating each section specific to your requests. Our angled steel sections come pre-pierced, however, if you have specific piercing requests, we can provide that for you. Our standard bespoke steel angles are crafted to optimum efficiency. Our rolled steel angles are mainly used for a wide range of industrial and most domestic applications.
Steel angles are one of the most basic types of rolled steel, and they can be used for making frames, racks and any general fabrication. They are simply made by bending a single angle in the piece of steel. The angle steel shape resembles an 'L'. The most requested angles are needed at a 90-degree angle.  Depending on your structure, the legs of the angle can be equal or unequal in length. Although framing is the most common use of steel angles, steel angles can also be used for trim, reinforcements, brackets, and many other types of uses.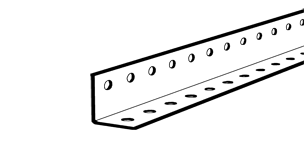 Whatever your angled steel section needs are, we can accommodate to them. We craft our steel angles to provide optimum stability and functionality for your structure.
Specifications:
Length: 8m (can be cut to order)
Pre-galvanized, pickled, oiled or hot rolled
Available sizes:
2'x2'x3 mm
2'x3'x3 mm
3"x3"x3 mm
Pre-pierced (pierced to specifications)
Customization offered
Profile Quick Selection