Vertical Door Ribbed Leaf Profile
Stainless and Aluminium designs ribbed leaf profiles with our new industry technology. Making vertical doors operate efficiently and smoothly, our vertical door ribbed leaf profile is the best on the market. Offering durable and strong qualities, even the largest doors will operate smoothly and effortlessly. We design our vertical door ribbed leaf profile to our customer's specifications. Whether you have a large industrial door or gate, we will help accommodate to your pressed steel needs. Our ribbed leaf sections allow customization.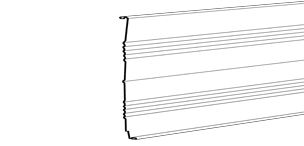 Sections of ribbed leaf are specifically designed for the construction and assembly of large industrial doors with a vertical structure. They are very like the flat leaf profile but have additional central ribs. They are also used for garage doors and any type of heavy-duty gate or door structure. Each ribbed leaf is offered in a wide selection of materials and made to the highest specifications.
Specifications:
Ribbed leaf manufactured from pre-galvanized steel
Size options:

4' (100mm) from 1.2 mm
6' (150mm) from 1.2 mm
9" (230mm) from 1.2 mm and 1.5 mm
12" (305mm) from 1.2 mm and 1.5 mm
Profile Quick Selection