Cross Beam Profile
Optimal for racking and storage systems, we supply top cross beam profiles that will provide ultimate strength and support. Our specially constructed cross beam sections are made to the highest specification, allowing you to order them from a variety of materials. Stainless and Aluminium manufactures premium cross beams that can serve for a variety of purposes. We believe making a strong and durable beam will help make our customer's structures impeccably stable. Our beams will ensure you will never have a structural failure of any type.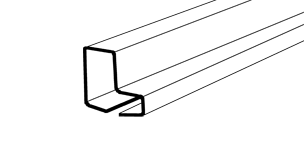 Specifications:
Thickness: 1.5 mm
Length: 8 m (can be cut to order)
Pre-galvanized, pickled, oiled or hot rolled
Full customization available
Cross beams are ultimately made for the effective span, which is when cross beams are required. Cross beams help avoid progressive collapse for a structural project. Our beams are made to be extremely strong, to be used in subsequent vulnerable portions such as slabs. The common usage of cross beams is generally to help break the span of the slab when the span is usually too large. Cross beams are also used for many other purposes such as structural support, and to prevent collapse.
Made to perfection, our cross beams can be custom ordered to fit your specifications. If you aren't sure about beam specifications, our team will help assist you to decide which size and kind of beam are best for you.
Profile Quick Selection